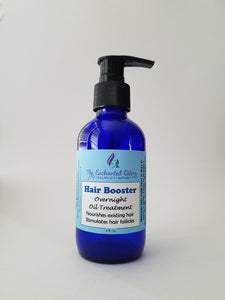 Hair Booster - Overnight Treatment
Regular price
$38.00
$0.00
Ladies and gentleman, step right up and check out this incredible stuff! 
Made entirely with edible ingredients - this is food for your hair! 
It really works - consistency is the key.  After just one or two overnight uses, your hair will look so much healthier! Within a few more uses your hair will look and feel fuller and thicker. You might notice a welcome decrease in hair loss. The essential oils stimulate circulation to your scalp which may promote hair growth (new growth typically appears after about 4 weeks of consistent use). The more you use it, the better it gets! 
To use:  Massage into scalp (dry or wet) 3 times a week. Comb/brush through to the ends of your hair. Leave in for at least 3 hours, ideally overnight. Shampoo out; may need to shampoo twice or use a clarifying shampoo. 
Ingredients: Castor oil, jojoba oil, essential oils (cedarwood, rosemary, and clary sage essential oils), vitamin E.                                                    
4 fl. oz. reusable blue glass bottle with pump. 
---
More from this collection