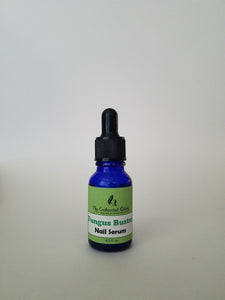 Nail Serum - Fungus Buster
Regular price
$25.00
$0.00
If you have fungus on your nails, this powerhouse blend will have them looking clear in no time!  It's time to put away those socks and break out the flip flops!  
This serum contains a variety of essential oils known to have anti-fungal and nail-nourishing properties.  Your nails will look clear and healthy! 
If you are looking for our water-based formula for skin and shoes, try our Anti-Fungal Spray.  
To Use:  Wash hands/clean nails. Massage 1 drop to each affected nail. Use twice daily (more for faster results). After nails are clear, use once every couple of days or so to keep nails healthy.  
Ingredients:  Jojoba oil, essential oils (melaleuca {aka tea tree}, patchouli, wild orange, oregano, lemon) organic vitamin E oil
0.5 fl. oz. blue glass bottle with dropper top
---
More from this collection