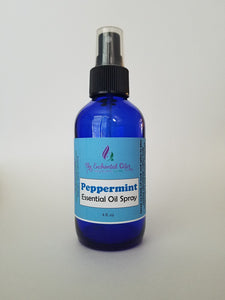 Peppermint Essential Oil Spray
Regular price
$15.00
$0.00
Keep this spray handy any time you need a quick pick-me-up or increased mental focus.
Spray in the air during those long car rides that leave you feeling tired.
Spray into your hands and apply to temples, forehead, and back of neck to feel less pressure from a headache.
Spray on the back of your neck for a cool, tingling sensation during those hot days!
Peppermint is also known to keep pesky insects away. It's one of the many oils in our Outdoor Life Bug Deterrent Spray.
Ingredients: Distilled water, peppermint essential oil, fractionated coconut oil
Available in a 2 or 4 fl. oz. reusable blue glass spray bottle
---
More from this collection