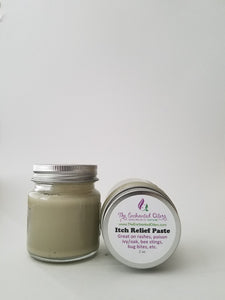 Itch Relief Paste
Regular price
$23.00
$0.00
You know that annoying feeling when a mosquito bite itches day after day until it finally goes away? Well, with this clay-based formula, once you apply it to the mosquito bite, the clay draws out the toxins and it will be as though the bite never happened. No more raised bump, no more itching!  
This paste works with other bites as well, and with certain rashes. 
Carry this with you whenever you're out in nature.  You just never know when you're going to need it....  
Great to use on mosquito bites, poison ivy/oak/sumac, ant bites, bee stings, and more!
Skin will feel less itchy and less inflamed 
The Bentonite clay helps draw out toxins 
Suitable for adults & children
Note: This product melts in very hot temperatures; this does not change the effectiveness.
To Use: Dab a small amount directly on the affected area as needed.  Let sit on skin (do NOT rub in) for about five minutes then wipe off.  For mosquito bites, ant bites, etc., one use is typically enough when put on within 30 minutes of the bite. For rashes and poison ivy/oak/sumac, you may need to use more often until blisters are dry. 
Ingredients: Naturally refined African Shea butter, baking soda, Bentonite clay, witch hazel, raw apple cider vinegar, peppermint, tea tree, and chamomile essential oils
1.5 oz reusable glass jar with screw on metal lid.   
---
More from this collection